---
Ardbeg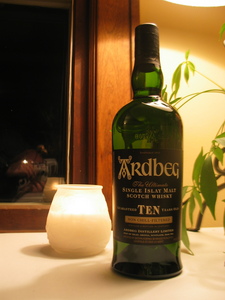 Scotch Region: Islay
Who Brought It:
Scott
Who Left With It:
Dale
Favorite: Dale
Least Favorite: Barb, Ben, Cari, Greg, Jane, Jocelyn, Kris, Lisa, Rob, Tim, Tom
Whisky Magazine Review for Ardbeg

Ah, Ardbeg...where do I begin.
Ardbeg was the statistical outlier of the group, to be sure. The peaty seaweediness of the Islay malts was represented finely here, and its results with the group were strong. Barb's review would have gone something like this:
Nose: Feet
Palate: Feet
Finish: I finished mine by pouring it out
Nevertheless, Dale loved this one, and ended up bringing it home. Whisky magazine even gives Ardbeg the coveted "Editor's Choice", and is described by contributor Dave Broom as "A punch in the chops from a stroppy Islay middleweight."