---
Balvenie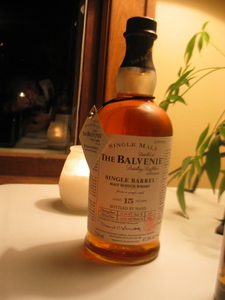 Scotch Region: Speyside
Who Brought It:
Tim
Who Left With It:
Cari
Favorite: Ben (tied with Macallan)
Least Favorite: none
Whisky Magazine Review for Balvenie

Balvenie 15 had the illustrious honor of priciest bottle in the selection ($60 US). It was actually purchased by Dr. Kevin Eberman, who through a bizarre set of circumstances was at a spur-of-the-moment wedding held to assist in getting better insurance for one of the now newlyweds. But that's another story, and sure to be the subject of a major motion picture.